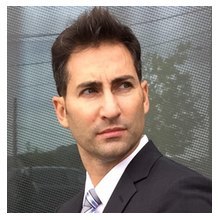 FRANCISCO JOSÉ MARTÍNEZ – LinkedIn · Twitter
Fundador y CEO de Interactivos.net
Francisco J. Martínez  comenzó ofreciendo servicios de Hosting en 1998 para terminar fundado en 1999 una de las primeras Agencias de Marketing Digital.
En 2001 obtuvo su Postgraduado en Marketing Digital por la UOC y se certifico en  "IT Benchmarking" en la Universidad de Stanford y en Networks, "Networks, Crowds and Markets, Computer Systems Networking and Telecomunications en la Universidad de Cornell de Nueva York.
Cofundador  en Manila de Flyspaces en 2014, actualmente ya está presente en Singapore, Manila, Cebu, Kuala Lumpur, Hong Kong, Jakarta y Macau.
Es inversor y miembro del board en empresas como Fever y Vitcord entre otras.